2021-2022
In line with Emirates NBD's vision to support youth, we've sponsored Enactus National Competition and are supporting the national winner team to the Enactus World Cup Competition, that was be held in Puerto Rico during the period from the 30th of October till the 2nd of November 2022.
Enactus is the world's largest experiential learning platform exists in Egypt's largest governmental and private Universities. Enactus is dedicated to creating a better world while developing the next generation of entrepreneurial leaders and social innovators. The Enactus network of global business, academic and student leaders are unified to create a better, more sustainable world. As a result of this partnership, Enactus Egypt youth won the 2022 World Cup.
Another collaboration between Emirates NBD and Education for Employment-Egypt (EFE-Egypt) aiming at designing and delivering an entrepreneurship training program to 40 Egyptian entrepreneurs who have a minimum viable product. The specific objective for this project is to contribute to inclusive economic growth by supporting youth's entrepreneurial skills in Egypt through training to empower young women and men to scale up their current businesses. The training is taking place in Almaza Recruitment and Training Centre (ARTC), which is right in the heart of City Centre Almaza. The program's top two performers will have an opportunity to show their product inside City Centre Almaza. (ARTC) is the leading hub in inclusive recruitment and training for empowering people with skills and opportunities needed to build careers in various industries, including retail and hospitality.
Furthermore, Emirates NBD participated in the social initiative that supports unprivileged students by paying their tuition fees in different Egyptian Universitates like (Suez Canal University and Beni Suef), also believing in the importance of sports for university students by renovating the football yard inside the Suez Canal University, serving all students.
2018-2019
We are working to enhance employment opportunities for young people across Egypt, focusing specifically on the economically disadvantaged.
We have formed a partnership with Education for Employment Egypt (EFE); a leading local Non-Government Organization dedicated to supporting disadvantaged youth to gain full-time employment in Egypt's leading private sector corporations.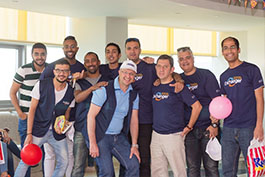 We officially formed this partnership in November 2017. It focuses on directly supporting 600 unemployed, disadvantaged youth to strengthen their job readiness capacity and additionally, gain access to high-quality, formal employment opportunities. The partnership is comprised of three key elements:
Launching Emirates NBD Egypt's dedicated Job Readiness and Placement Program

It will be completed by 200 unemployed and disadvantaged Egyptian youth in 2018, with an emphasis on post-program job placements in leading organizations like Emirates NBD Egypt in addition to our broader corporate network. We will also target Egypt's high-growth sectors like the retail, hospitality and IT industries, as some examples.

Introducing a Careers Direction course

It will be undertaken by 400 Egyptian youth from public universities over 2018. It will include providing these students with enhanced CV writing and interviewing skills, as critical prerequisites for gaining successful entry into the formal job market.

Launching a Financial Literacy Campaign

The aim here is to enhance awareness amongst Egyptian youth about the importance of making responsible financial decisions, and critically, provide specific guidance on how to achieve this.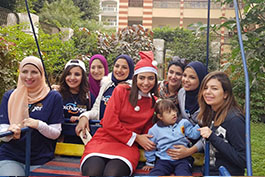 About Education for Employment Egypt
Education for Employment is a network of locally-run Affiliates across Egypt, Jordan, Palestine, Morocco, Tunisia, Yemen and Saudi Arabia. Registered in-country and powered by local boards and staff, these organizations train youth and link them to the world of work. With international board members and staff located in the United States, Europe, and the UAE, EFE-Global provides assistance, training, expertise and networks to support the EFE Affiliates.
Click here to view Education for Employment's website and learn more about this organization.