Emirates NBD Egypt Strategically Launches Program to Help Attract Youth and Introduce them to the Financial World
Since its Launch Last October Emirates NBD Egypt's Innovation Competition has Inspired University Students to Develop Innovative Banking Ideas
Exclusive Benefits for Barcelona Cardholders including Free Trips to Attend Catalan Club Matches
Cairo – February 8, 2018 – Guided by its goal to introduce youth to the financial world and integrate them into the banking system by encouraging innovative product and service development, Emirates NBD Egypt has continued its youth-centric initiative for the second consecutive year. The bank announced this year's Future Intelligence Program's top three winners. The program was launched last October and since then has welcomed the participation of students from across many Egyptian Universities, including the American University in Cairo, the German University in Cairo, the Arab Academy for Science, Technology, and Maritime Transport, Cairo University, the British University in Egypt, and Misr International University. The program has given young Egyptians the opportunity to showcase their innovative ideas to help develop the banking sector as well as creative financial solutions.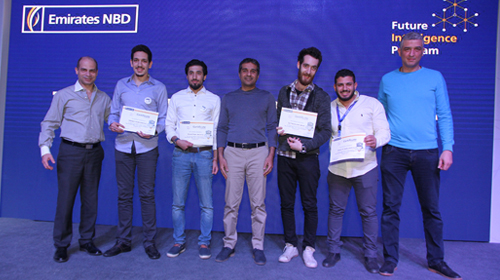 Emirates NBD Egypt awarded the first place team a cash prizes amounting to EGP 50,000 and the life-changing opportunity to attend a training program at the bank's headquarters in Dubai. The second and third place winners received EGP 30,000 and EGP 20,000 respectively. Finally, the audience chose a team which came in fourth place and won 10,000.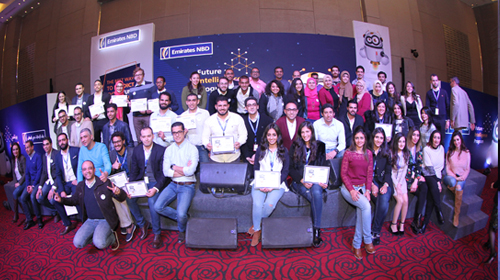 The lucky first place winners were Mohamed Ihab, Nour El Ain El Tahawy, and Yehia El Korma. The second place prize went to Ziad Thabet, Karim Azmi, Youssef Samy, and Amr Tarek, while the third place winners were Mostafa Anwar, Lina Muhab, and Mohamed Moselhy. Selected through the audience fourth place winners were Ghassan Jandali, Seif Mostafa, Ahmed El Shaar, and Mohamed Al Dakkak. The bank's cash prizes will be used to fund students' innovative ideas and equip them with the necessary tools to develop their projects to help improve the banking system and explore new financial solutions.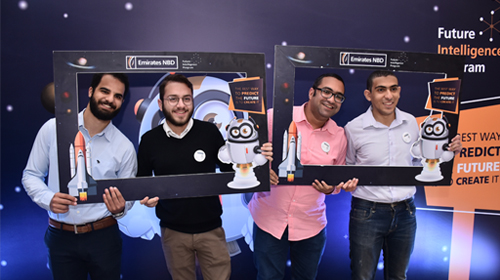 Fouad Mohamed, Chief Operating Officer at Emirates NBD Egypt, said, "We are very pleased with young Egyptians' interest in the bank's program and the significant participation from university students. Emirates NBD Egypt's program has helped shed light on innovative minds and we hope that it will support and empower Egyptian university students to contribute to the development of their country. These students will also enjoy potential employment opportunities across the bank's various departments."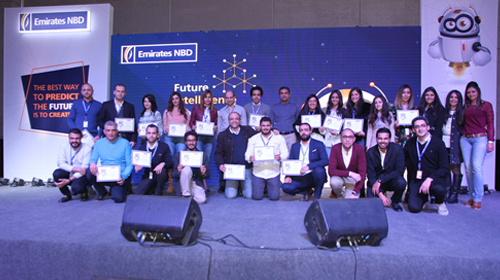 He added, "Targeting young people between the ages of 18-26, the bank aims to foster financial independence and career development, which is aligned with the financial inclusion initiative. Youth are set to benefit from numerous advantages on savings accounts to encourage them to save and become financially independent members of society. The bank also offers a range of distinct banking products, including the Barcelona Youth Card, which is a pre-paid card, in partnership with Catalan Club, giving youth the opportunity to open bank accounts that offer unprecedented discounts in the Egyptian market as well as a unique rewards program and all-expenses paid trip to attend the Club's matches at Camp Nou. Youth represent the largest sector within the Egyptian market; therefore, at Emirates NBD Egypt, through our long-term vision, we aim to attract young people and build trust to encourage their integration into the banking system and become future customers who can benefit from the bank's distinguished products and services."
In addition to all these advantages, Emirates NBD Egypt gives its young customers training priority within any of the bank's different departments related to their area of study as well as the opportunity to attend seminars led by the bank's managers. Emirates NBD Egypt also recognizes students from its customer base who excel academically based on set academic standards and social activities with a cash reward and certificate of appreciation.