Emirates NBD Egypt and FC Barcelona announced their partnership in a press conference and held a gala dinner in honor of Patrick Kluivert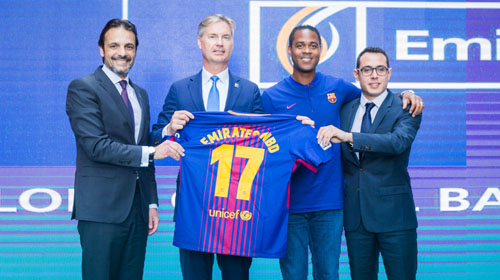 Cairo, Saturday 28 & Sunday 29 October - The Emirates NBD Egypt team had an action packed two days, in efforts to announce the official launch of the strategic partnership by the bank and famous football club FC Barcelona, in presence of Dutch footballer Patrick Kluivert.
The journey started with former FC Barcelona and Dutch footballer Patrick Kluivert visiting The Giza Pyramids and the Sphinx. During his private tour, Kluivert expressed his deep admiration for the prominence and grace of The Pyramids and the Ancient Egyptian civilization.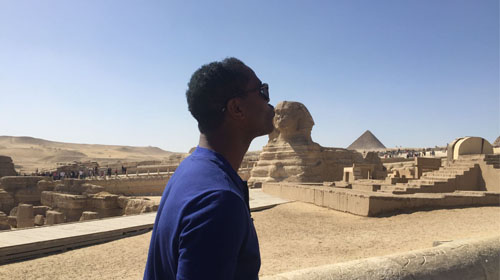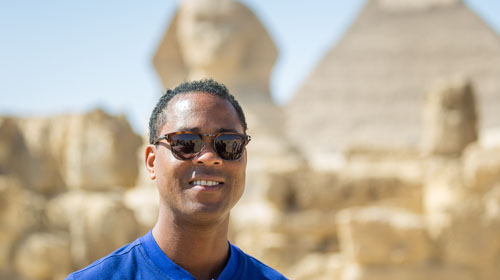 On Sunday 29th of October, at Emirates NBD Egypt's Head Office, New Cairo, details of its new partnership with world famous football club FC Barcelona were announced in a press conference, in the presence football star Patrick Kluivert, and a large number of the media as well as famous Egyptian football figures and celebrities .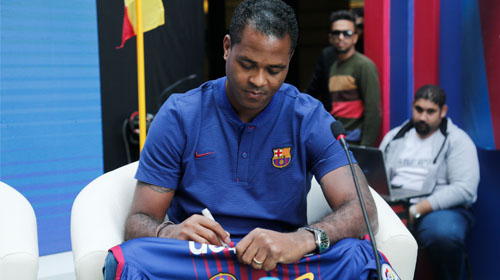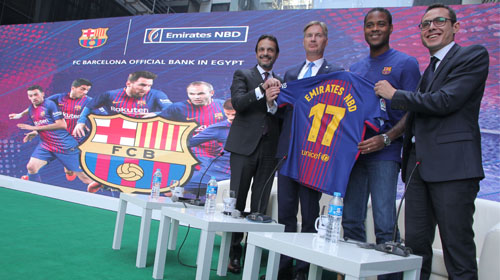 The partnership will initially feature the launch of prepaid cards, as well as classic and platinum credit cards co-branded by the bank and FC Barcelona. FC Barcelona enjoys the largest international football club fan base in Egypt, likely to encourage many football enthusiasts to sign up for the co-branded cards, providing access to the ultimate FC Barcelona experience. Emirates NBD – FC Barcelona cardholders are granted the opportunity to win official FC Barcelona merchandise, in addition to fully paid trips to Camp Nou Stadium to watch FC Barcelona play live.
In the evening, a football themed gala dinner was held at Uptown Cairo in honor of Patrick Kluivert, in the presence of Famous Egyptian football Stars as well as a selected group of the bank's top officials, prominent Egyptian footballers, celebrities and representatives from our partners in Mastercard, Fawry, NCR and others. Guests enjoyed an entertainment filled & celebratory evening, amongst important bank officials to celebrate the new strategic partnership.